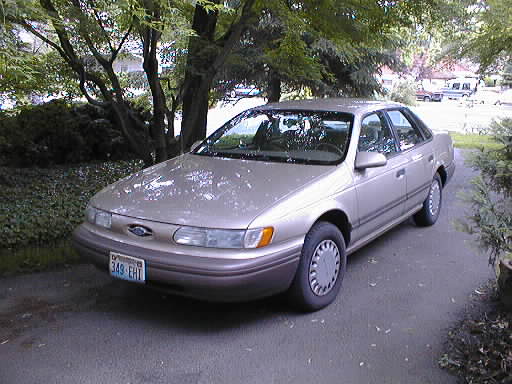 Grandpa's Ford Taurus, 1992
When my (to-be) wife's Ford Escort started dying, both I and her grandfather thought that we could help out. (Her engagement present 450 SL was my solution, but it came with some definite strings attached!) He was starting to find it difficult to drive safely, and decided that it was time to stop driving. Giving her his car was a good way to eliminate two problems at once, and perhaps save a little face. It was a very nice gift, and had I not gotten in the way with that SL, it would probably have suited her better!
It only rolled 20,000 miles onto the odometer as we drove it home. Mostly it had run him around town in its eight years, with a few out-of-town trips. He took pretty good care of it, and it was garaged. A pretty nice family car, but we were already overly equipped on the car front. There was no room in a garage for it, and as I cleaned yet another bee nest out of it I figured it was time to move it along. This car was just too nice to let rot, and what's more, was not a good use of such a generous gift. My wife was for anything that would reduce the number of cars we had.
Selling a low-miles car like this is not easy, as its condition was quite a bit better than the average car of its age. A collectible, except that this is not a collectible car! Fortunately our relatives, who in fact had themselves put many of the miles on this car as chauffeur, offered us a generous price for it that we couldn't refuse. We gladly sent it on to them, knowing that it would be driven and cared for.
Tuesday, May 28, 2002
It now has some 33,000 miles on it, and is being driven daily by the aunt's son. (The picture is recent.)

While we do need a spare sedan, the Chicken Wagon is a much better solution, since it's worth very little and the bees can chew on it all they like.
Thursday, December 10, 2009
My wife tells me that this car is again 'in play'. We'd sold it (back, essentially) to her aunt, who had in turn loaned it to one of her sons. After a year or three it came back to them and sat for awhile, and is now in service with my wife's brother, the same one that had gotten Jill's Ford Escort. (They'd had a Taurus before that they liked, but it wore out. Keep-it-running-forever car care is not one of their strengths.)

That's kind of cool; essentially the car's been in service (if you count us: we used it very little) with five different households—all in one extended family.