Mercedes 240D For Sale Sold! $2500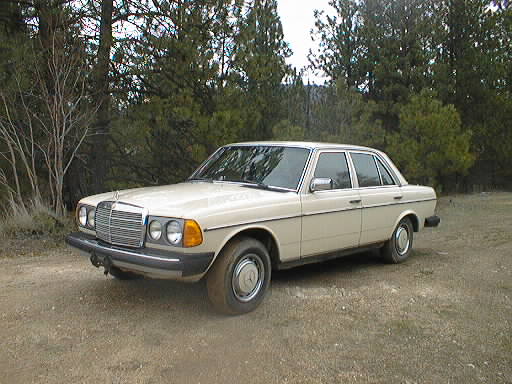 240D, 1979. $2500 Perfect for Biodiesel
e-mail: jimc@dogear.com or telephone: (509) 926-7801
The Good
Needs nothing, everything works except the AC (which is missing parts courtesy of some previous owner, otherwise it would be working too). Not perfect, however, see below.
1979 model is exempt from smog testing in WA, not that this is usually a big issue with diesels, unless badly broken. Still, it's a biannual expense that you don't have to pay to the State.
20-gallon auxiliary aluminum fuel tank in trunk. Biodiesel!
Racor fuel filter/water separator. (Currently disconnected. As a fuel filter it's not superior to the stock system, but if you had a water problem it would be better than stock. It might be useful if using biodiesel where fuel purity could be an unknown quantity. It would be easy to hook up, it just needs two short fuel lines to plumb it in place of the stock prefilter.)
240D, economical. 1000-mile range (verified) with extra tank.
Class I trailer hitch, trailer wiring adapter in trunk.
Manual windows, reliable.
Manual dual-zone HVAC, simple and reliable.
Has AC (though currently discombobulated, it could be restored).
Working sunroof.
Factory central locking. Works (rare at this age). Would be fairly easy to add keyless entry. Ask me how!
Cruise control, works (rare at this age).
No rust. California car, spent much time in Eastern Oregon.
Very clean inside.
Upholstery excellent. The old-style 'Ming the Merciless' headrests look a bit dated, but I find that they work very well as neck pillows when napping in the car. Much better than the newer ones.
Block heater works!
Rear window defogger. Works.
Good glass.
All glovebox books there.
New water pump.
Spare engine oil filter and fuel filter.
Transmission fluid and filter changed recently. Shifts firmly with no flaring, engagement time is very fast.
New fuel filters.
Valves adjusted (15 kmi service item).
Seat tracks cleaned and lubed. They adjust easily, both fore/aft and up/down. The adjustment handles, so often broken off by yanking when the seat gets hard to move, are all intact.
Auxiliary power plug underneath the glove box for cell phone, GPS, travel cooler, etc. Much easier to use and less in the way than the ashtray's lighter socket.
Rear seat cushion removes easily by releasing two spring clips. Handy when carrying big or nasty stuff in the car. We transported the dog to and from the kennel back there by substituting the dog's bed for the seat cushion. Much cheaper than running the truck, our usual practice!
Lots of life left in the brake pads. Looks like a fairly recent job.
Good tires.
Added lamp test feature (of later models) to fuel-low indicator lamp.
The Bad
Scraped right side, but not too bad. Hard to notice unless you look for it.
Hood has some small dents, but not too bad. Hard to notice. Looks like what happens when you try to close it on tools.
The paint still looks good from a few feet away, but is starting to show its age. Well treated it should be good for some years yet, and is plenty shiny.
The dash is cracked. Very common, an inexpensive dash cap or mat is the usual treatment. Your choice. A new dashboard is hideously expensive, but sometimes good used ones turn up. Installation is not trivial, however.
Stock Becker radio/cassette is tired. I stole it out of another of our cars, so if you plan to instantly replace it and toss it out I'd like it back!
AC compressor missing, along with its hoses and pulley. Thank you PO!
AC Condenser missing, along with auxiliary fan (used only for AC on this model). Ditto.
303k miles. A lot of these engines have run much longer than this, and this one goes down the road well. A bit cranky starting, but it hasn't failed me yet. The more I run it the better it gets, so I suspect it mostly just needs the cobwebs blown out of it. This is one of the most durable automotive engines ever made.
The Ugly
The extras, that is! Some extra parts/items can go with the car, if the new owner wants them. (I would always want such items, but as my wife so cruelly points out, not everybody is like me!)
The original carpets. Not in great shape, but mostly not horrible either.
Original chewed steering wheel. The missing chunk doesn't really show, but it bugged me enough on test drives that I replaced the wheel anyway. (The replacement's styling was slightly different.)
Touch-up paint. A rattle-can of McParts paint that matches surprisingly well. I spray it in the cap and then use a brush or toothpick from there.
Bootleg copy of the factory manual on CD. Notably difficult to use by the novice mechanic, these were designed for use by experienced MB mechanics who only needed to know peculiar details about any given job. Of the aftermarket manuals out there I've seen, I particularly like the Haynes.
The aftermarket 8-track radio that was sitting in the hole. Ugly, missing knobs. Unknown condition, don't know if it really works.
The (expired) Oregon license plates. I'm unsure what they'd be good for!
Pictures:
Exterior
Interior
Engine
Why Selling?
This car was bought as an experiment to see if this could be done as a (modestly) profitable venture while I am out of work. I found a non-running car that looked like it could be cleaned up with a little work, and then got it running. And then cleaned it up. As you might expect, it took a vast amount more time than I ever would have thought, and many more parts, but the car turned out nice! At least in the process I learned some things, so I don't begrudge (too much) the time involved. Over 100 hours of repairs and TLC, I could probably have made more money with this time ("You want fries with that?"), but at least I've been able to be home with my family. I can't say that I really want to do another one of these, though!

This car would make an excellent highway cruiser with its extra-large fuel tank system (and functioning cruise control). A fine choice for biodiesel operation as you only have to fill up every 1000 miles, so limited availability of fuel is not such an issue. (MB diesels also have the most robust fuel system of any of the automotive diesels, and can run well on nearly anything.) We took the car on a long road trip and filled up once in Idaho (cheaper fuel) before we left, and again when we got back. 1024 miles. We would have filled up twice on the road in any of our other similar cars, for more money (WA fuel tax, and sometimes you're not near the best price in an area or don't know where it is). We really enjoyed blowing past our usual filling stops, and the long range gave us considerable peace of mind. The auxiliary tank cuts into the trunk space, but there was enough to start with that we got all of the luggage for a family of three's five-day road trip in there anyway, along with a toolbox and protective clothing for a potential trip to the junkyard. We didn't have to put any of it up front with us. (Except the snack bag, but where else would you want that?)

After the trip the car was running better than ever, and I wouldn't hesitate tomorrow to jump in the car and drive it anywhere.

Oh, and if you're curious I have no intention of repeating the experiment. It takes far too much time to bring a car back to this condition compared to what you can sell it for. No problem if it's sweat equity in a ride you really want for yourself, but otherwise...
Things to do Someday, Maybe
The car is ready to go, but some things you might need or want to attend to in the future. (This is true of any older car.) If the car remains local and I remain available I may be willing to contract to do any of these items.
Stereo. Stock one is pretty wimpy. There are no rear speakers, so adding those should probably also be on the list. Don't expect to do anything 'fun' with the trunk space, the presence of the auxiliary fuel tank precludes doing anything but putting modest speakers on the back shelf. (As I mentioned above, I wouldn't mind getting the stock stereo back. It came out of one of our other cars.) A factory automatic antenna (with dashboard switch) would be fairly easy to retrofit into the car as well. Just have to find a donor at the junkyard. Often these need a good cleaning and a new replacement mast before they work properly, but those are available.
Hood pad. Supposed to quiet the car down some but I think the effect is pretty minor. The way the hood tilts to completely vertical for servicing will really help in putting this on if you want one. Last time I did it I built a scaffold over the engine compartment out of planks and ladders, that made applying the glue and the pad a snap.
Timing chain. It's at about the limit for wear-induced stretch, so the next valve adjustment (15k miles) would be a good time to also replace that. It's fairly easy to do and not that expensive. It's a long ways from the breaking point yet, but it's not something to forget about either! All diesels are interference engines, losing the timing chain/belt is a Bad Thing.
Parallel glow-plug system upgrade. Those who have done this have raved about the improved cold-startability. Not too expensive, and fairly easy to do.
Restore AC system. The only economical path is to source the missing parts (stupid PO!) from a junkyard, the U-Pull variety is by far the cheapest. Patience will be your ally there. (I would have done this myself already but there were no donors available when I needed them.) The compressor is a Delco/Harrison R4, a fairly common item. The parts I have identified as missing are the compressor and mounting bolts, its manifold and hoses (which cross over to the right side of the engine), the condensor, the auxiliary fan (used only by the AC system), and the crankshaft pulley and belt. Something like $50 would get you all these parts at the U-Pull. You would also at that time replace the receiver/drier with a new one, the one that is there has been open to atmosphere for who knows how long and its desiccant is bound to be totally saturated with evil system-destroying water by now. The car doesn't have many horsepower to spare so be prepared to notice when the AC is on! These cars were not designed with excess cooling capacity, those who have converted to R134a often complain about poor cooling ability. As R134a is notably less efficient than an R12 system and MB's AC systems of the day were a bit on the wimpy side anyway this should come as no surprise. Also, the nasty lubricating oils that R134a requires are not known for longevity in a converted system, potentially resulting in an early failure and an expensive repair as the compressor self-destructs and blows debris throughout the system shortly after the minuscule warrantee (if any) is up. Instead you should either pony up for R12, or use one of the many mineral-oil-compatible substitutes that are out there. Some of them even work better than R12 did. (Designed-for-R134a systems work just fine, that has no bearing on this opinion.)
Wheel treatment. You could use the rattle-can to paint the two white hubcaps to match. I would have, except that masking is a real pain. Or, more likely, you may want to put on factory alloy wheels. These are readily available at junkyards. Just note that you need to get matching lug bolts too, the alloy wheels are thicker and require longer bolts. The long bolts can't be used on the steel wheels because they protrude into the hub too far and will interfere with the brakes. So, if you do convert to alloys and do not also convert the spare tire make sure you carry a set of the old short bolts with you for the spare tire!
Keyless entry. I have done this before, but not on this class of car. It is easiest if you can tie into the existing central locking system, that way you only have to put one motorized actuator in the driver's door, and the control unit itself under the dash. The car's vacuum-based system handles the other three doors, the fuel flap, and the trunk.
Speedometer cable. The cruise control surges a bit at times, and I believe this can be directly traced to a slight wiggling of the speedometer needle. It's subtle, but I'm pretty sure the amplifier is extremely sensitive to this. I do know that the surging was lessened when I lubricated the existing cable, and the needle wiggling was definitely much improved. On the test bench the amplifier is rock-solid.