MB 190D 2.5, 1986 (?)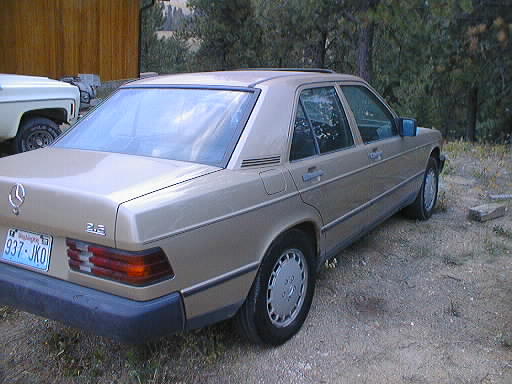 I need to be stopped. Yesterday, I noticed in my 'secret' copy of Wheel Deals that one of the local lowball car dealers was having an auction of some 300 POS's (presumably). (This place has ads that will say things like "Guaranteed to get off the lot" and "Bring rope.") Housecleaning, I guess.
Anyway, I thought I'd drop by with my son (2.5yr) for amusement, since they had advertised a "88 380D, turbo, blue" in the sheet and I was taking my son out to give my wife a bit of a break. Who knows what this actually would have been (there's no such thing as a 380D), but I was kind of hoping it was an '87 300D.
Anyway, I finally end up in the right place, and on the drive-through block at the moment I walked in was a gold MB of some sort, starting at $100 when I heard it. From where I stood, well to its rear, I could see shine on the paint and a "2.5" on the trunk (no model badge), and somehow I decided that this was the car they'd been advertising. I obviously knew nothing more about the car, except that I believed it to be a diesel because I had thought I'd heard a clatter, and there are "2.5" diesels, and I'd forgotten the "blue" in the ad. I also managed to convinced myself that they were unlikely to have more than one newer MB in their auction. In a moment of madness, I asked the runner whether I could bid without a number yet. Some yelling back and forth, and I was in!
There was a blur of activity, and almost before I knew what was happening I got it for $350. ($472 after all fees, etc.) Got what, I wondered, having never been close enough to it to even hit it with a rock. It took me some time to get the paperwork straightened out, and to find the key booth. And the car, since nobody knew where it would be except "out there".
So my boy and I had a nice walk, and found it in about the last place it could be. Of note is that I didn't see any other MB at any time, blue or otherwise. [I later found out that there were three that day, and this one I bought is not the one I went there to see.] Also, this car had the same chunk out of the fog light that the photo ad had, though the resolution was too poor to make out the license plate.
So what my key fit was a gold 190D 2.5 (?), my first 201. Black interior in decent condition, though a spring later poked my wife in the ass. Smoker's car, so it'll need a good cleaning. Numerous small cigarette burns in the upholstery, but nothing too bad. Not ever going to be a show car! Paint decent overall, but with two rust patches on the hood, a small crease in the grille and no grille chrome strips. Mashed condenser, looks like the grille insert is new but they forgot to order the strip kit as well. The rear took a small hit, it's pushed in slightly and one lens is cracked. Bumper scuffed. The car might have gotten sandwiched in a minor accident. Some rust getting started on one rear wheel well lip, but sills and such all looked good. Glass was good.
The windows all worked, as did the central locking, and it started right up. One glow plug was out, and it could use new motor mounts. Windshield wiper (mono) worked. Radio did not, which is because it was a Becker Europa just sitting in the hole. Unconnected and with a toe tag on it, and the car has heavy wiring from a big stereo here and there, but no big stereo. Needed a door check strap and a bit of trim on the trunk.
Sunroof switch was submerged in the dash, and some bozo had screwed a wind deflector up top. To the sunroof itself, it looks like! So it probably couldn't open or anything. There were a couple of holes in the headliner, but the carpets were in good shape, and the interior was until recently very clean. (Mud and gravel on top.) Fan switch was all buggered, but I could get the fan to squeak and run some.
So I put it in gear to see what's up. Nothing. Then I noticed that on one of the windows I rolled up was "Bad Tranny". Nice, but obviously it had driven through the auction. Later a guy told me it would move when cold, and "probably needs a new filter". Yeah, that sounds likely. The car wouldn't move forwards or back. So my wife and I dragged it home on a rope, since a friend had borrowed my car trailer and then went out of town. That went well, the car idled the whole time so she had power steering and brakes. Oil pressure and temperature were normal. Turn signals were out, but that was because she messed with the flasher switch. Many cyclings later brought the lights back to life.
My wife chose to christen our new vehicle at this time, by dumping a pop over the console. I hate that she's always got a can grafted to her hand!
At home, I had her try "D", and it engaged normally and she was able to drive it a few feet into place. I tried it, and it would grab in both "R" and "D". But the next morning, for example, nothing. The tranny fluid level looked decent (I always have trouble determining this) and the color and smell were good. B2 piston failures leave you with reverse, right? What is likely the matter, could it be something simple like a clogged filter or valve body? I'm unfamiliar with failure modes that are intermittent in nature.
Log of activity:
A log of its life with us.
Pictures:
A list of its repairs and upgrades:
Engine compartment:
Fabricated missing air filter box clamps.
Resoldered glow plug relay.
Glow plug #2.
Swapped manual transmission for the broken automatic.
Repaired broken fuse box cover.
Lubricated squeaky blower.
Replaced split vacuum fitting to heater valve.
Replaced missing hood-to-rear-firewall seal.
Tethered loose washer reservoir cap.
Replaced defective washer level sender.
Air conditioner. Replaced auxiliary fan and recharged.
Replaced injector return lines.
Replaced worn belt tensioner w/good used.
Lubricated belt tensioner idler wheel.
Tuned EGR system.
Refurbished brake master cylinder, reworked rear check valve release.
Glow plug #1.
New motor mounts, including the transmission mount.
Glow plug #5.
Cleaned engine.
Rebuilt alternator.
Resealed injection pump.
Glow plugs #3 & #4, prophylactically.
Flushed power steering system.
New power steering return hose.
Lubricated throttle linkage.
New brake reservoir seals.
Added (manny tranny) damper to throttle linkage.
Replaced primary fuel filter and its fuel line.
Cleaned out radiator and condensor. Straightened many fins. Welded bracket back on condensor.
Cleaned thermostatic fan clutch.
Cleaned coolant reservoir.
Cooling system flush, new correct (Zerex G-05) coolant.
Derusted and painted battery tray.
New battery.
New blowby (breather) system rubber parts.
New radiator cap.
New clutch slave cylinder. Twice.
Refurbished AC compressor.
AC recharged.
New windshield washer splitter, 000 860 08 62.
New speedometer cable, 201 540 15 68.
New radiator.
Body:
Glued up (poorly) the shattered headlight surrounds.
Replaced missing trunk trim (thumb ledge).
Repaired buggered lug bolt hole, replaced missing bolt.
Repaired rusted-through front exhaust pipe.
Bled brakes.
Repacked center driveline bearing.
Replaced bad right-side tie rod joint.
Replaced bad steering shock absorber.
Cleaned and regreased left ball joint.
Replaced bad left-side tie rod joint.
Replaced bad low-tone horn.
Replaced grille, complete with star.
Replaced broken plastic headlight mounts.
Repaired left headlight surround, and lower trim piece.
Replaced bad RR forward suspension link.
Shimmed loose steering idler arm bushings.
Glued up broken trunk floor (tire well cover).
Replaced damaged parking brake cable.
Refurbished rear brake calipers.
Replaced bad parking brake shoes.
Welded up cracks in exhaust system.
Replaced left-hand taillight.
New antenna grommet.
Replaced headlights with new-style (used).
Replaced rear trunk liner plastic piece (used).
Cleaned rattly crap out of passenger door.
Rebuilt bad driver's door check strap. Cleaned out rattly crap.
Fixed leaking left-hand taillight.
Replaced driver's door check strap with new.
Lubricated sticking door handles.
Added auxiliary trunk light.
Replaced rear door checks with new.
Replaced missing rear door vapor barriers.
Glued peeling vinyl and loose retaining hooks on rear door skins.
New correct-sized tires that don't scrape on bumps.
New left ball joint.
New front struts, bumpers, bellows.
New rear shocks.
Cabin:
Repaired broken springs in driver's seat. (Later replaced.)
Repaired jammed blower switch.
Replaced missing dashboard speakers.
Resoldered bad joint in ACC panel.
Replaced bulbs in ACC panel.
Reglued dashboard wood trim panels.
Glued broken dashboard plastic trim pieces.
Repaired stock stereo wiring, including front/rear fader.
Added JVC stereo wiring in parallel with stock Becker wiring.
Replaced outdoor thermometer.
Replaced rotted and blown rear deck speakers.
Replaced missing blower speed knob.
Repaired broken cruise control amplifier.
Replaced failing capacitors in the clock.
Replaced missing RH lower B-pillar seat belt mount cover.
Added a 'Road-Trip Relay' and a power outlet and switch in the first-aid kit tray for use with a travel cooler and a solar battery charger. (Second installment. Third installment.)
Repaired broken trace on instrument cluster board. (High-beam indicator.)
Replaced LH outside seat hinge cover.
Replaced LH rear hump seat belt track bolt cover.
Fixed corrosion on warning buzzer.
Cleaned dirty flasher switch contacts.
Installed embedded garage door opener.
Installed cupholder.
Installed JVC CD player.
Replaced flakey dome light with dome/map combination light.
Replaced driver's seat with good used. (More adjustments, and not so saggy in the base.)
Cleaned odometer dials, repainted speedometer needle.
Still broken:
Sunroof very sticky, also missing air deflector spring
Missing belly pans
Rust at jack points
Rust on right rear wheel arch
Rust by trunk lid
Rust on hood
Rust on passenger door bottom
Missing 190D legend. (Have part.)
Flakey fuel gauge sender. Dirty?
No cord on block heater. (Have part.)
Coolant sensor, runs fans and AC. (Have part.)
Noisy driveline center bearing? (Have part.)
Cluch master cylinder and feed hose was leaking, but stopped. (Have parts.)