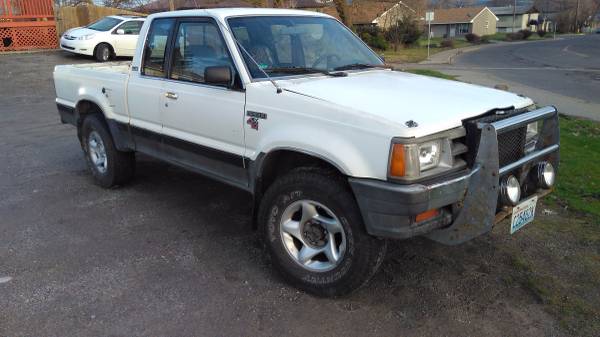 Mazda B2600 with OM617A, 1987
The Chevy pickup had done yeoman service for quite some time, but it was getting very tired and nasty on the inside, ever since the leaky windshield replacement debacle, and the engine had started oil-fouling plugs badly. I could never get it started when I wanted, which resulted in me using it less and less. Which made for bad gas and the starting/running problems worse... a vicious cycle.
All of this could be dealt with but... I was sick of it.
I had been toying for a few years with the idea of finding a 1996–1998 12-valve Dodge Cummins, with regular cab, long bed, 4×4 and a stick shift, but those aren't all that common and go for stupid prices, even with 400kmi on the clock. (All-mechanical engine, bulletproof inline Bosch P7100 injection pump. Just like my truck, and basically the Dodge diesel equivalent of the Chevy, which was otherwise perfect for the uses to which it was put.) Not much joy on that front.
At dinner one day a neighbor showed me this Craigslist listing for a diesel Mazda truck. (He wanted it, but his wife put the kibosh on that.) I basically yawned, stating that I didn't really want to get into an orphan diesel model, of a truck and engine I knew nothing about. He then pointed out that this was a Mercedes diesel engine, one I was very familiar with, and that the truck was a 4×4 with a manual transmission. A 'Mazcedes'?
All of a sudden this thing got very interesting, as a potential replacement for the Chevy. Diesel engines can sit for years and start right up, which is perfect for a woods truck. The smaller truck won't hold/carry as much, but for on-property use you just make a few more short trips, and the smaller body might be more maneuverable in the woods. I thought about it, but procrastinated a bit too long and when I finally went to call on it the listing was gone. Oh well.
Later, though, I found a browser window left open to the listing on my desktop computer, and the phone number was still there. I called. Yes, it was still available, so I made arrangements to go see it.
Ad text:
1987 Mazda B2600 LX Extra Cab 4x4 with a 3.0L 5 cylinder (OM617) 1983 Mercedes 300SD turbo diesel engine coupled with the Mazda 5 speed manual tranny. Great fuel economy between 25-30 mpg. Here's a few things done on it in the past 15k miles that I've owned it:

Just had engine oil change done. Has aftermarket towing brake controller, turbo boost gauge, battery volt gauge, custom headlights, fog lights, CD player, battery and starter replaced recently. Has 265/75/16 tires on it.

Body has close to 200k miles, engine has close to 180k miles, 19k miles driven after the engine install. Has some dings and dents, small rock chip in windshield, truck bed handle broken. Family growing, so we just bought a bigger truck. Call, text, or message for more info. $2699 obo
Sale pictures:
Friday, May 25, 2018
The truck looked good, and drove fine. Only notable thing is that the fan and radiator are on the front side of the grille, behind the brush guard and covered with expanded steel. The engine sits more forward than it needs to, but probably not enough to fit behind the grille even if it was brushing the firewall. PO claims 25–29 MPG. All gears worked, it started easily. High/low range works, though it's impossible to really tell if 4×4 is working without some more interesting terrain. Truck is far from perfect, and could use a bit of TLC. The dash instrumentation is crude homebrew, the original cluster is gone. The engine idles rough, really shakes things up, but once at speed seems pretty smooth. We negotiated a bit, and settled on $2,500 with the sale to be consummated the next day. (Banks were closed by that time.)
Saturday, May 26, 2018
I bought the truck. The drive home was uneventful, it seems to drive pretty well down the highway but the overall experience is crude, Unimog-ish. At idle it's very noisy and vibratory. At freeway speeds it smooths right out. Boost gauge goes up to about 14 PSI before the overboost cutout drops it back to 10 PSI. Has very little low-end torque, feels like the 190D rather than the 200D, which has a very truck-like feel. You need to keep the RPM up on this to keep power on. It'll be fine, regardless, but I prefer a more truck-like feel in a truck.

The radiator and oil cooler protection are fine for normal use, but in the woods I think I'll need a little bit more. Will have to give this some thought.

PO says that the truck had an OM617 in the bed when he got it, leftovers from the turbo conversion by the PPO, and which he had sold. He had once left the hood unsecured, and it blew up and mashed the cowl area and damaged the hinges, but did not break the glass. Still looks good enough to me, for a woods truck.

Later that day Daniel and I drove to town in it to get some more brake cleaner for the delivery valve job and some dinner, and I filled it up. The aftermarket fuel gauge is flakey, and is not to be trusted. The oil pressure gauge is not hooked up.
Monday, May 28, 2018
I looked over the truck. The 16" wheels are Toyota wheels, they've got center logo caps. The protruding hub lockers on the front prevent the caps from being used there.

Thumb starter switch, a toggle for glow/kill. Key does nothing but power the gauges, etc. I like its crude elegance, but wish the original instrument cluster could have been preserved.

The glow plugs are hooked up with a Ford starter relay, the 12ga wiring somewhat inadequate, since it's a single wire to one plug and chained to the others. The glow plugs all seem to be working, and I put the battery on charge, it was thirsty. Motor mounts standard Benz, screwed to perches welded forwards of the originals. Left side mount oily and collapsed.

There is a strange blowby oil recovery system. There are a couple of metal bottles, like pill bottles in size. First bottle drains to oil return and also feeds second bottle, second bottle is open to atmosphere.

Truck should have 215/75/R15 tires, which are 4" shorter than what is on it. (265/75/R16, 31.6" in height.)

Son dislikes the name "Mazcedes", prefers "Otto von Hirohito." I am unconvinced. "M&M" has also been suggested.

I used some heat-shrink tubing to slip over the hood retention pegs, maybe that will tame the horrible squeaking that comes from there sometimes.
Tuesday, May 29, 2018
I removed the broken tailgate release handle, which is accessed behind the screw-on panel that covers the inside of the tailgate. Very straightforward. I wonder how easy it is to find another one? Looks like they're around $25–30 online.
Wednesday, May 30, 2018
The U-pull didn't have any intact tailgate pulls, but they did have two broken ones, but which were all there, unlike mine. I bought one, I think I can repair the broken pot-metal using a steel splint and some JB-Weld. $9. The same truck had a hard bed-liner, I grabbed the tailgate section for another $6. (The bed section is too long, my truck has a short bed. Hmm, I wonder if I could cut it off to fit? Probably not, the wheel wells are in the wrong place.)

The donor truck in the yard had an intact muffler, with hangers and mounts, which I bought. Should be fairly easy to mount, it's all formed to fit this model of truck. I just need to cut pipes off appropriately and weld them together. That will be much safer in the woods, ensuring that no sparks can possibly come out of it.
Saturday, June 2, 2018
I drilled two holes in the pot metal of the tailgate handle, and formed a piece of large box staple to pin across the break. Then I potted the entire area in JB-Weld and wrapped electrical tape around it to keep it from slumping away while it cures.
Monday, June 4, 2018
Two days is plenty of time to cure, I installed the tailgate handle. I tried it a few times, it hasn't broken yet, so that's good. I couldn't quite get all the longer bolts for the bed-liner tailgate cover to start, but there are enough there to hold it on. It'll do.
Saturday, June 9, 2018
I tried out the 4wd today, I took the little truck into the woods. After remembering to lock the hubs it was able to get around. I definitely need to beef up the protection on the front, I had to pick a lot of trash out of the lower radiator. The truck doesn't have any better turning radius than the Chevy, and the lack of low-end torque makes it less fun to drive around. Also, it's geared a little higher, so you can't creep along as slowly. All non-ideal, but probably livable.
Sunday, June 10, 2018
I hung the exhaust today. First I welded up the soot-encrusted cracks in the used muffler where it was starting to fail, they looked like fatigue cracks more than erosion. Then I hung it in place using the rubber hangers, all three of them lined up nicely with the hooks on the truck. I only had to cut off about 9" from the front side of the muffler pipe in order to mate with the pipe on the truck, then I cut a 1" collar of scrap exhaust pipe to make a slip collar to hold them together. Welding that on was the difficult part, it's hard to weld on the top and the bottom. I had to start the vehicle numerous times in order to find the leaks, and get them (mostly) plugged.

I found that up front there was a missing bracket between a collar on the pipe and the rear transmission mount, so the exhaust pipe rubbed against a cross-member. Noisy! A section of shackle bolt from the scrap pile, along with a spacer made from a flex disc bushing and a scrap nut completed the ensemble. It actually looks nearly professional! At the back the new tailpipe contacted some over-long mudflap screws, but a short session with the grinder fixed that. A little over 2 hours for all of this.

It runs a lot quieter now! And, more importantly, will be safer in the woods.

Daniel and I then used the truck to do a lot of reversing practice in the driveway, preparing for his driving test. This little truck was nice for that because we could put it in 2L (4L with the hubs unlocked) in order to have a gentler introduction to maneuvering in reverse. (Eventually we switched to the 190D.)

As it rained intermittently during this and we were using the heater to dispel fog, it is clear now that the heater vent control is entirely disconnected from anything; I was unable to get anything out of the defroster vents. I guess I'll have to go in.
Monday, November 19, 2018
I thought I'd take this out to get gasoline for the wood splitter, but when I went to start it the battery was at 8V. Not good! I put the charger on, and it was very thirsty; there must be a parasitic drain somewhere in the system, it charged for hours. I put a battery cutoff switch on it, which did not fit very well.
Tuesday, November 20, 2018
Very cold this morning, I tried to start it. Much cranking, but no go, just a couple of coughs. After the attempt I checked the battery area, and the 'new' battery disconnect switch was very hot. Going to have to do something else, I guess, on a diesel we can't afford to lose any starting energy to heating the wiring.

Back on charge.