SL For Sale Sold!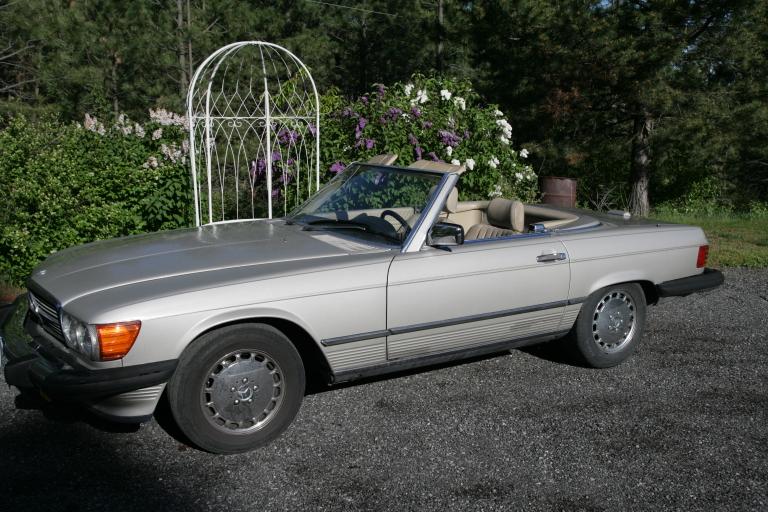 560 SL, 1988. $6750
e-mail: jim.cathey.pb@gmail.com or telephone: (509) 926-7801
Why Selling?
This car was owned by a friend of mine, who was moving out of the country and found he just didn't have time to deal with the car. So he sold it to me, knowing it would be a hassle-free instant sale. The car had a few small issues that he didn't have time to deal with, so he figured he might as well sell it to me as-is. (My wife was not all that pleased, but so long as I get rid of it soon she's OK with it. Since we already have his-and-hers SL's, one more is not tempting at all!)
The Good
Needs nothing, everything works. (See repair list.) Not quite perfect, however, see below.
1988 model is exempt from smog testing in WA.
Cruise control is working. (Somewhat unusual at this age!)
Engine running well, and is strong.
Falken ZE512 unidirectional tires, excellent condition. 60 PSI.
Aftermarket keyless remote entry system, currently unplugged.
The Bad
There's a split in the middle of the passenger seat bottom. (This could probably be glued using fabric cement on a canvas strip on the inside. You'd want to do this before treating the leather with something like Leatherique. If you soften the leather first it'll gap open and you'll never get it looking right. Or just put a seat cover on it.) A new bottom, in leather, is about $380 from GAHH, but that might make the rest of the interior look bad in comparison.
There are some paint flaws on the trunk lid, and a bit of peeling (from the repaint) around the bottom edges here and there.
The sun visors are screwed into place, the plastic tabs have broken. (These can be replaced separately, via aftermarket sources, if swinging the sunvisors to the side is important to you. I have done this on my wife's car, but they have already broken again, after only a couple of years, so it's probably not worth the trouble and expense. Other than not swinging out to cover the side windows they operate normally, so this is not a big hardship. I can't recall ever wanting to move them to the side anyway.)
The dash has some small cracks in it. If this is bothersome enough you can put a dash cap on it, they are readily available and look pretty good, though installation is not trivial. I've put these on two different cars before.
The Ugly
The extras, that is!
Hardtop storage trolley, with cover.
Car cover.
Bootleg copy of the factory manual on CD. Notably difficult to use by the novice mechanic, these were designed for use by experienced MB mechanics who only needed to know peculiar details about any given job. It is, of course, invaluable even so. Of the aftermarket manuals out there I've seen, I particularly like the Haynes.
Pictures: