SL For Sale Sold!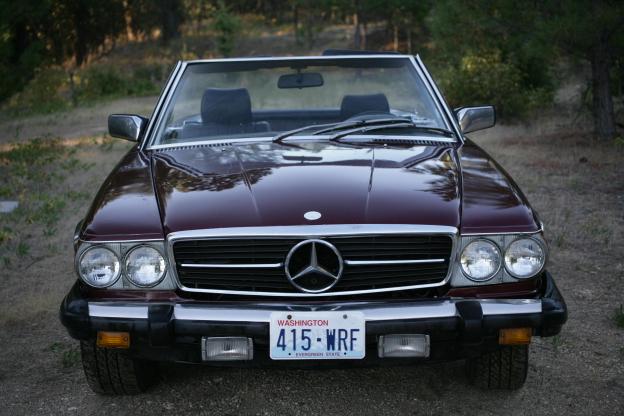 380 SL, 1982. $3200
e-mail: jimc@windwireless.net, or telephone: (509) 926-7801
Why Did I Buy This?
For the price, I couldn't pass up this sadly neglected (at the time) example. Though it needed a lot of work and had to be dragged home on the end of a rope it was actually not too far from running condition. I thought I could get it working and then drive it for fun while I worked on all of its non-critical needs. (Which were legion.) I also thought it would be fun to have a 380 SL for awhile, to complement our (now-sold) 450 SL and the his and hers 560 SL's. (A 107 SL hat trick?)
Why Selling?
There's just no way to justify keeping three SL's long-term, it's hard enough to justify having two. Once the car was fixed up to a driveable condition that's just what I started to do, and the fixing somehow largely stopped. After more than enough time with the unfinished bits hanging over my head it was time to send it on its way. This car turned out to be more of a project than I'd anticipated (there's a shock!), but more significantly, other, more important projects prevented me from giving it the attention it deserved. While I'd hoped to have fun fixing it up to a needs-nothing condition, quickly, then selling it and hopefully not losing any money in the process, that was not to be. (That was the deal I'd made with my wife when I got it!) This was fun to drive while I was repairing it, I'd already determined that it was pointless to do this on a purely for-profit basis with a 240D I'd repaired and sold in the past, it just takes too much time invested for the return you can get. No, it was mostly for fun. And when the fun stopped...

The good part is that you get a car that I treated as my own personal ride, as there was no way to know exactly how long we were going to keep it, after all. (The laundry list of what it needed to be driveable was quite long.) In fact I drove it for just about five years (but not in the winters), about four and a half years longer than intended!
The Good
Driveable. Everything works, even the AC and the cruise control. (See repair list.) Not rusty. Not perfect, however, see below.
1982 model is exempt from smog testing in WA, yet has the reliable CIS-E fuel injection, hydraulic valve lifters, and has the relatively reliable VDO Automatic Climate Control system, not the trouble-prone and expensive Chrysler system of earlier models.
3.8 liter engine uses regular gasoline, unlike later cars which require premium.
Engine has been converted to the desirable longer-lasting double-row timing chain.
Engine has had the top end serviced. (Prior to my ownership. I'm not sure just what this entailed, I was never able to dig paperwork out of the PO.)
Added lamp-test for the low-fuel light, like later MB's have.
Added auxiliary turn-signal clacker for better top-down feedback.
Panasonic CD player, with rear deck speakers.
Rear center seat belt, works great for tying down a small child in a booster seat in the back. This actually works pretty well, and so far we've had no problems going on family outings in any of our SL's (all of which have this feature courtesy of the junkyard). The belt normally hides under the rear deck, and is a Kangol magnet belt from a 1968 280 SE. It wouldn't be terribly good for a full-size (!) passenger, but that's more due to its center location and the nature of the rear deck. This car, like all 107 SL's, can have a real jumpseat system installed in it for a 2+2 configuration.
New sunvisors. (Priced those, lately?)
New seat upholstery. (Priced that, lately?) In MB-Tex, not leather, so it'll last a lot longer and with less upkeep. Often mistaken for leather.
New chromed plastic seat hinge covers. (Priced those, lately?)
Replacement (used) soft top.
R12 compatible refrigerant. Works better and lasts longer than R134a conversions. (Less corrosive, and lubricates the compressor better. I have heard too many disturbing reports of early failure of converted systems.) Other compatible replacements are available, if you don't want to continue with R12. (I recommend against a R134a conversion, primarily because of the oil problem. Also, R134a is less effective: it's inherently less efficient; designed-for-R134a systems are larger as a result.)
The Bad
The paint. Most of the paint looks very good, some is excellent. There are some tired spots however, and peeling of the clear coat on the hood, so it isn't perfect. Overall impression is that it looks very good, see the pictures. Drive it as-is for an economical price, or paint it properly and transform it into a very nice example. Or, use a paint guy I found that does reasonably good painting for a very economical price, he fixed the peeling trunk, door, and hood. Oh, the choices!
The car burns some oil. Spark plug #7 fouls. Once fouled the car loses power and doesn't run like it should, but is still quite driveable. A new (or cleaned) plug cures the rough running. It takes less time to change that one plug than it takes to fill the gas tank on the car.
The rear window defroster doesn't all work. Only about half of the vertical strips will clear. Usually not much of an issue on a convertible!
AC has a slow leak at the receiver/drier.
The Ugly
The extras, that is! Some extra parts/items can go with the car, if the new owner wants them. (I would always want such items, but as my wife so cruelly points out, not everybody is like me!)
Touch-up paint. The remainder of the paint used to repair the peeling trunk lid, and two rattle-cans of McParts paint (Torreador Red) that work very well for rocker-panel touch-up, and anywhere that a merely close color match is good enough.
Bootleg copy of the factory manual on CD. Notably difficult for the novice mechanic to use, these were designed for use by experienced MB mechanics who only needed to know peculiar details about any given job. Even so they are, of course, invaluable. This one's designed to work on slightly older PC's, but can be used quite successfully on a Mac running OSX after a little bit of tweaking. (Copy the files to HD and run a patch script to fix up the linkages. Ultimately it's just a batch of PDF files that are scans of their discontinued paper manual, it's the indexing system that is so sensitive. I believe the same patches will also allow use on a Linux-based system. There are also alternate indexes of this data that have been created by other people that were dissatisfied with the stock indexing system.) Of the aftermarket manuals out there I've seen, I particularly like the Haynes, you might want to get yourself one of those.
The add-on third brake lamp from the trunk. This didn't belong on a 1982 model (it was from the '86–87 models) and was poorly installed so that water leaked into the trunk. I removed it and welded the holes shut before the trunk was repainted. If you want to reinstall it (properly!) you can have it. It will need repainting, at the very least.
Pictures: