Jill's MB E320, 2000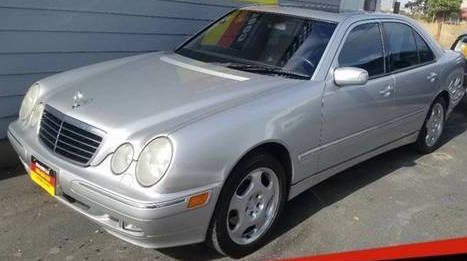 Jill's E320, 2000
The wretched X5 has built up a pretty big load of resentment, due to its high cost, high cost of repairs, and tendency to break down catastrophically. I am not sanguine that anything newer would actually be a better car for the long haul, and so began looking for something in the middle-aged Mercedes vein, but suitable for Jill's current needs.
Due to my experiences with Barney, and the research I've put into it, a W210 actually looks fairly feasible. Jill's needs:
Reliable
Working radio/CD
All-wheel drive
Heated seats
Passable fuel economy
A W210 can meet all these, and is still somewhat DIY-friendly. Both the V6 and the transmission have excellent reliability reputations, as does the post-W124 AWD system. The AWD W210 doesn't have the spring perch rust issues, though the W210 has a bit of a general reputation as a rust magnet. (Jill routinely uses the car wash in winter, so this might not be too bad.) We're no longer car pooling Daniel to school, and we have two pickup trucks, so the greater interior (and exterior) room of the X5 is superfluous.

I had been starting to look for AWD E320's, with a preference for the wagon form to make hauling Jill's instruments around easier. (The bari sax is particularly bulky.) The wagons, though, are less common than the sedans and the storage is less secure, and I first ran into a sedan for sale at a local used car lot. It looked presentable, and the price was 'in the zone'. The proprietor stated that they never lasted long on his lot, and that he bought them for resale whenever they came up privately, and even offered me a bounty if I had seen any others that he might buy. A line? Maybe, but I think their popularity is true, and so I bought it after a short test drive. Supposedly the car originated in Seattle and was sold (by this lot) to a local dentist, who didn't keep it long before trading it back in on a W210 diesel that later turned up on the same lot. (Ah, if only the diesels came in AWD...)

This is much newer than I am comfortable with, because cars newer than about 1990 are saturated with custom electronics, which can get uppity, are often NLA past a point, and for which used parts are either just as bad-off as the originals or cannot readily be reprogrammed to serve in a different car. All things I hate. On the other hand, these E320's are not too expensive and have the features we need.

Though this car has a 'smart' key, it's still something you have to insert physically and twist, it's not pushbutton-start, which I loathe.

A log of its life with us.

A list of its repairs and upgrades.
Pictures:
VIN Decode


WDBJF82J4YX039750 Mercedes-Benz E-class W210 / S210 2000 VIN decoder and vehicle history report

 Your VIN number was successfully decoded:
WDBJF82J4YX039750 Mercedes-Benz E-class W210 / S210 2000	
VIN:

WDBJF82J4YX039750

WMI / VDS / VIS:

WDB JF82J4 YX039750
Manufacturer:

Mercedes-Benz DCAG DAIMLER AG 	Mercedes-Benz DCAG DAIMLER AG

Brand:

Mercedes-Benz

Model:

E-class W210 / S210

Region/Plant:

Gratz Austria

Check:

4

Year:

2000

Sequential number:

39750

Approx. mileage:

264,998 km

See also

Get Vehicle Records 

Issue ID	Failed	Affected Component	Miles	City/State	VIN Pattern
334302	24/11/01	SERVICE BRAKES, HYDRAULIC:ANTILOCK	0	SAN JOSE, CA	WDBJF82J4YX
334303	24/11/01	SERVICE BRAKES, HYDRAULIC:ANTILOCK	0	SAN JOSE, CA	WDBJF82J4YX
 Additional information on the vehicle:
CarID	1271
Brand	MERCEDES-BENZ
ManufacturerId	553
Catalog	MB201711
Model	210.082
Name	E3204M
ImageUrl	
Date	22.03.2000
Fin	WDB2100821X039750
Vin	WDBJF82J4YX039750
Market	North America 
Lights	HELLA
Wiper	BOSCH
Description	Sedan E United States НАЧ. С ИДЕНТ. № WDBJH82F.Y X 027615
VehicleClass	Passanger
Aggregates	M - engine: 112941 30 699449 112.941 M 112 E32 GASOLINE ENGINE GA - Automatic : 722664 12 074757 722.664 W 5 A 300 AT 5-SPEED
Chassis

Sales designation: E3204M [MODEL_IDX = 2]
Order number: 0 0 704 31103
Delivery date: 22 03 2000
Market: NA,North America
Production order: 
Paint code 1:
744U - BRILLIANT SILVER METALLIC
Equipment:
211A - LEATHER ANTHRACITE
Engine no.:
112941 30 699449
Transmission:
722664 12 074757 [transmissionType = GA]
Steering: 
Front axle 1:
Rear axle 1:
Rear axle 2:
Battery 1: 
Fuel cell 1: 
Electric motor 1: 
SA code
231 - GARAGE DOOR OPENER
242 - FRONT SEAT RH ELECTRIC ADJUSTABLE WITH MEMORY
249 - INSIDE AND OUTSIDE MIRROR AUTOMATIC DIMMING
265 - LINES-NO.PLATE DISCONTINUED
275 - MEMORY PACKAGE (DRIVER SEAT, STRG. COL., MIRROR)
293 - SIDEBAG IN REAR LEFT AND RIGHT
345 - RAIN SENSOR
349 - PREP. FOR EMERGENCY CALL SYSTEM
352 - COMAND
414 - ELECTRIC TILT/SLIDE SUNROOF IN GLASS VERSION
461 - INSTRUMENT WITH MILES IND. AND ENGLISH LEGEND
494 - U.S. VERSION
524 - PAINTWORK - PRESERVATION
543 - SUN VISOR WITH MAKE-UP MIRROR L. AND R., BE-
551 - ANTI-THEFT/ANTI-BREAK-IN WARNING SYSTEM
581 - AUTOMATIC CLIMATE CONTROL
600 - HEADLAMPS - CLEANING EQUIPMENT
611 - EXIT LIGHTS FOR DRIVER DOORS
612 - HEADLAMP-XENON R.H.TRAFFIC
634 - DELETION - FIRST AID KIT
636 - DELETION - WARNING TRIANGLE
641 - LIGHT ALLOY WHEEL, 11-HOLE DESIGN
668 - PACKAGING FOR SHIPPING VEHICLES WITH TIE-DOWN HOOK
673 - HIGH-CAPACITY BATTERY
679 - BASIC WHEEL AS SPARE WHEEL
800 - [112.9] - 19970516 - AEJ 06/1/M/X
800 - [210] - 19960905 - YEAR OF MODIFICATION 99/1
800 - [722.6] - 19980310 - 
810 - SOUND SYSTEM
873 - SEAT HEATER FOR LEFT AND RIGHT FRONT SEATS
876 - INTERIOR LIGHT ASSEMBLY
955 - EQUIPMENT PACKAGE ELEGANCE
210A - LEATHER
744U - BRILLIANT SILVER METALLIC
211A - LEATHER ANTHRACITE





DataMB.com
Mercedes-Benz VIN Decoder
English ▼   Save PDF  Print  Share
General Data
FIN	WDB2100821X039750
VIN	WDBJF82J4YX039750
Model Year	2000
Model	E3204M
Engine	112941 30 699449
Transmission	722664 12 074757
Order Number	0 0 704 31103
Order Location	UNITED STATES (USA)
Interior	LEATHER ANTHRACITE (211A)
Paint 1	BRILLIANT SILVER METALLIC (744U)
Delivery Date	2000-03-22

 
Code	Description
210A	LEATHER
231	GARAGE DOOR OPENER
242	FRONT SEAT RH ELECTRIC ADJUSTABLE WITH MEMORY
249	INSIDE AND OUTSIDE MIRROR AUTOMATIC DIMMING
265	LINES-NO.PLATE DISCONTINUED
275	MEMORY PACKAGE (DRIVER SEAT, STRG. COL., MIRROR)
293	SIDEBAG IN REAR LEFT AND RIGHT
345	RAIN SENSOR
349	PREP. FOR EMERGENCY CALL SYSTEM
352	COMAND
414	ELECTRIC TILT/SLIDE SUNROOF IN GLASS VERSION
461	INSTRUMENT WITH MILES IND. AND ENGLISH LEGEND
494	VERSION FOR USA
524	PAINTWORK - PRESERVATION
543	SUN VISOR WITH VANITY MIRROR, ILLUMINATED, LEFT AND RIGHT
551	ANTI-THEFT/ANTI-BREAK-IN WARNING SYSTEM
581	AUTOMATIC CLIMATE CONTROL
600	HEADLAMPS - CLEANING EQUIPMENT
611	EXIT LIGHTS FOR DRIVER DOORS
612	HEADLAMP-XENON R.H.TRAFFIC
634	DELETION - FIRST AID KIT
636	DELETION - WARNING TRIANGLE
641	LIGHT ALLOY WHEEL, 11-HOLE DESIGN
668	PACKAGING FOR SHIPPING VEHICLES WITH TIE-DOWN HOOK
673	HIGH-CAPACITY BATTERY
679	BASIC WHEEL AS SPARE WHEEL
800	YEAR OF MODIFICATION 99/1
810	SOUND SYSTEM
873	SEAT HEATER FOR LEFT AND RIGHT FRONT SEATS
876	INTERIOR LIGHT ASSEMBLY
955	EQUIPMENT PACKAGE ELEGANCE

Mercedes Benz VIN decoded at https://www.datamb.com/vin/1NZMgEK9vq8Aarnlo


Vehicle Information
 Type
 Value
VIN	WDBJF82J4YX039750
Model	E3204M
Colour	BRILLIANT SILVER METALLIC (744U)
Upholstery	LEATHER ANTHRACITE (211A)
Production Date	2000-03-22
Order Nr.	0 0 704 31103
Production Nr.	

 
Equipment
210A	LEATHER
211A	LEATHER ANTHRACITE
231	GARAGE DOOR OPENER
242	FRONT SEAT RH ELECTRIC ADJUSTABLE WITH MEMORY
249	INSIDE AND OUTSIDE MIRROR AUTOMATIC DIMMING
265	LINES-NO.PLATE DISCONTINUED
275	MEMORY PACKAGE (DRIVER SEAT, STRG. COL., MIRROR)
293	SIDEBAG IN REAR LEFT AND RIGHT
345	RAIN SENSOR
349	PREP. FOR EMERGENCY CALL SYSTEM
352	COMAND
414	ELECTRIC TILT/SLIDE SUNROOF IN GLASS VERSION
461	INSTRUMENT WITH MILES IND. AND ENGLISH LEGEND
494	U.S. VERSION
524	PAINTWORK - PRESERVATION
543	SUN VISOR WITH MAKE-UP MIRROR L. AND R., BE-
551	ANTI-THEFT/ANTI-BREAK-IN WARNING SYSTEM
581	AUTOMATIC CLIMATE CONTROL
600	HEADLAMPS - CLEANING EQUIPMENT
611	EXIT LIGHTS FOR DRIVER DOORS
612	HEADLAMP-XENON R.H.TRAFFIC
634	DELETION - FIRST AID KIT
636	DELETION - WARNING TRIANGLE
641	LIGHT ALLOY WHEEL, 11-HOLE DESIGN
668	PACKAGING FOR SHIPPING VEHICLES WITH TIE-DOWN HOOK
673	HIGH-CAPACITY BATTERY
679	BASIC WHEEL AS SPARE WHEEL
744U	BRILLIANT SILVER METALLIC
800	
810	SOUND SYSTEM
873	SEAT HEATER FOR LEFT AND RIGHT FRONT SEATS
876	INTERIOR LIGHT ASSEMBLY
955	EQUIPMENT PACKAGE ELEGANCE



WDBJF82J11X057922 Mercedes-Benz E-class W210 / S210 2001	
VIN: WDBJF82J11X057922

WMI/VDS/VIS: WDB JF82J1 1X057922
Manufacturer: Mercedes-Benz DCAG DAIMLER AG
Brand: Mercedes-Benz
Model: E-class W210 / S210
Region/Plant: Gratz Austria
Check: 1
Year: 2001
Sequential number: 57922

Approx. mileage: 247,700 km

Extra information on the vehicle:
Name:	Mercedes-Benz
Name:	E-Class
Name:	Engine
Compression Ratio:	10
Cylinder:	6
Size:	3.2
Displacement:	3199
Configuration:	V
Fuel Type:	premium unleaded (required)
Horsepower:	221
Torque:	232
Total Valves:	18
Type:	gas
Code:	6VNAG3.2
Compressor Type:	NA
Horsepower:	5600
Torque:	3000
Gear:	single overhead camshaft
Name:	5A
Automatic Type:	Shiftable automatic
Transmission Type:	AUTOMATIC
Number Of Speeds:	5
Driven Wheels:	all wheel drive
Num Of Doors:	4
Category:	Other
Category:	Interior
Name:	Oyster
Name:	Ash
Name:	Java
Name:	Blue
Name:	Charcoal
Category:	Exterior
Name:	Black Opal
Name:	Desert Silver
Name:	Black
Name:	Midnight Blue
Name:	Aspen Green
Name:	Obsidian Black
Name:	Royal Indigo
Name:	Tectite Gray
Name:	Brilliant Silver
Name:	Bordeaux Red
Name:	Glacier White
Name:	Dark Turquoise
Manufacturer Code:	E320W/4
Base M S R P:	50700
Base Invoice:	47151
Delivery Charges:	645
Used Private Party:	2131
Used Trade In:	1331
Market:	Luxury,Performance
E P A Class:	Midsize Cars
Vehicle Size:	Midsize
Primary Body Type:	Car
Vehicle Style:	Sedan
Vehicle Type:	Car
Squish Vin:	WDBJF82J1X
Year:	2001
Name:	E320 4MATIC AWD 4dr Sedan (3.2L 6cyl 5A)
Body:	Sedan
Model Name:	E-Class Sedan
Trim:	E320 4MATIC
Highway:	24
City:	18
Chassis

Sales designation: E 320 4MATIC 
Order number: 0 1 704 22183
Delivery date: 16 03 2001
Market: NA,North America
Production order: N
Paint code 1:
339U - VIOLAN - METALLIC PAINT
Equipment:
214A - LEATHER, JAVA
Engine no.:
112941 30 991152
Transmission:
722664 02 774951 [transmissionType = GA]
Steering: 
Front axle 1:
Rear axle 1:
Rear axle 2:
Battery 1: 
Fuel cell 1: 
Electric motor 1: 
SA code
231 - GARAGE DOOR OPENER
242 - FRONT SEAT RH ELECTRIC ADJUSTABLE WITH MEMORY
249 - INSIDE AND OUTSIDE MIRROR AUTOMATIC DIMMING
265 - LINES-NO.PLATE DISCONTINUED
275 - MEMORY PACKAGE (DRIVER SEAT, STRG. COL., MIRROR)
293 - SIDEBAG IN REAR LEFT AND RIGHT
345 - RAIN SENSOR
349 - PREP. FOR EMERGENCY CALL SYSTEM
352 - COMAND
414 - ELECTRIC TILT/SLIDE SUNROOF IN GLASS VERSION
423 - 5-SPEED AUTOMATIC TRANSMISSION
461 - INSTRUMENT WITH MILES IND. AND ENGLISH LEGEND
494 - U.S. VERSION
524 - PAINTWORK - PRESERVATION
543 - SUN VISOR WITH MAKE-UP MIRROR L. AND R., BE-
551 - ANTI-THEFT/ANTI-BREAK-IN WARNING SYSTEM
581 - AUTOMATIC CLIMATE CONTROL
611 - EXIT LIGHTS FOR DRIVER DOORS
634 - DELETION - FIRST AID KIT
636 - DELETION - WARNING TRIANGLE
641 - LIGHT ALLOY WHEEL, 11-HOLE DESIGN
668 - PACKAGING FOR SHIPPING VEHICLES WITH TIE-DOWN HOOK
673 - HIGH-CAPACITY BATTERY
801 - AEJ 00/1 R 170 AEJ 99/2
810 - SOUND SYSTEM
873 - SEAT HEATER FOR LEFT AND RIGHT FRONT SEATS
876 - INTERIOR LIGHT ASSEMBLY
955 - EQUIPMENT PACKAGE ELEGANCE
210A - LEATHER
339U - VIOLAN - METALLIC PAINT
214A - LEATHER, JAVA