MB E320, 2001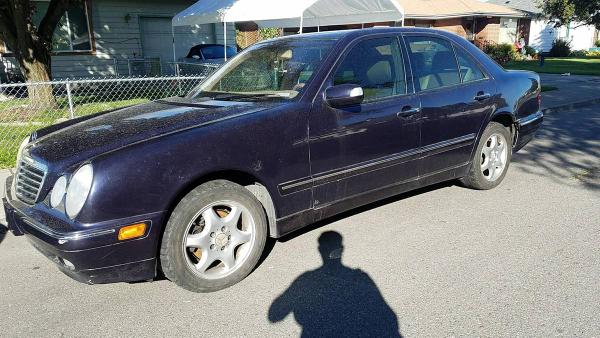 E320, 2001
The poor Frankenheap got itself a case of terminal rust, and so I had been looking for an inexpensive winter beater to replace it. This turned up, and as it was reasonably inexpensive (though broken), had heated seats, got reasonable fuel economy (though not a diesel), was all-wheel drive, and was not black/white/silver, I found myself interested. A contender!
2001 Mercedes E320 4matic - $800

Date: 2017-12-07 3:53PM

I have nice 2001 Mercedes E320 4matic in nice condition but it's a project, it has transmission issues. I bought the car as a project and have some time and money put into it but lost interest in it and couldn't figure it out, replaced few parts like brake light switch and a shifter. The car does go in gear and drives but sometimes it won't go in gear looks like it goes in limp mode. It does need transmission service done for sure and probably needs a conductor plate and it will probably work great. I was gonna do it but I have no time and money and they are not expensive and you can do it yourself super easy. Other than that it has nice interior and body is good. It has the navigation package.

Trades welcome anything just let me know what you have. Need gone before snow.

This needs to be towed because it won't drive for long.

Let me know if you have more questions. Mainly looking for cash, interested in trade let me know what you got ????
This is much newer than I am comfortable with, because cars newer than about 1990 are saturated with custom electronics, which can get uppity, are often NLA past a point, and for which used parts are either just as bad-off as the originals or cannot readily be reprogrammed to serve in a different car. All things I hate. On the other hand, it was not too expensive and had features I am interested in. To wit:
No rust
All-wheel drive
Heated seats
Passable fuel economy (though it claims it needs premium)
Nothing else really mattered.

Though this car has a 'smart' key, it's still something you have to insert physically and twist, it's not pushbutton-start, which I loathe.

I decided to name it Barney because it's purple on the outside, and kind of slimy and gross on the inside. (It'll clean up fine, but I won't bother until/unless the mechanicals can be taken care of.)

A log of its life with us.

A list of its repairs and upgrades.
Pictures:
VIN Decode

WDBJF82J11X057922 Mercedes-Benz E-class W210 / S210 2001	
VIN: WDBJF82J11X057922

WMI/VDS/VIS: WDB JF82J1 1X057922
Manufacturer: Mercedes-Benz DCAG DAIMLER AG
Brand: Mercedes-Benz
Model: E-class W210 / S210
Region/Plant: Gratz Austria
Check: 1
Year: 2001
Sequential number: 57922

Approx. mileage: 247,700 km

Extra information on the vehicle:
Name:	Mercedes-Benz
Name:	E-Class
Name:	Engine
Compression Ratio:	10
Cylinder:	6
Size:	3.2
Displacement:	3199
Configuration:	V
Fuel Type:	premium unleaded (required)
Horsepower:	221
Torque:	232
Total Valves:	18
Type:	gas
Code:	6VNAG3.2
Compressor Type:	NA
Horsepower:	5600
Torque:	3000
Gear:	single overhead camshaft
Name:	5A
Automatic Type:	Shiftable automatic
Transmission Type:	AUTOMATIC
Number Of Speeds:	5
Driven Wheels:	all wheel drive
Num Of Doors:	4
Category:	Other
Category:	Interior
Name:	Oyster
Name:	Ash
Name:	Java
Name:	Blue
Name:	Charcoal
Category:	Exterior
Name:	Black Opal
Name:	Desert Silver
Name:	Black
Name:	Midnight Blue
Name:	Aspen Green
Name:	Obsidian Black
Name:	Royal Indigo
Name:	Tectite Gray
Name:	Brilliant Silver
Name:	Bordeaux Red
Name:	Glacier White
Name:	Dark Turquoise
Manufacturer Code:	E320W/4
Base M S R P:	50700
Base Invoice:	47151
Delivery Charges:	645
Used Private Party:	2131
Used Trade In:	1331
Market:	Luxury,Performance
E P A Class:	Midsize Cars
Vehicle Size:	Midsize
Primary Body Type:	Car
Vehicle Style:	Sedan
Vehicle Type:	Car
Squish Vin:	WDBJF82J1X
Year:	2001
Name:	E320 4MATIC AWD 4dr Sedan (3.2L 6cyl 5A)
Body:	Sedan
Model Name:	E-Class Sedan
Trim:	E320 4MATIC
Highway:	24
City:	18
Chassis

Sales designation: E 320 4MATIC 
Order number: 0 1 704 22183
Delivery date: 16 03 2001
Market: NA,North America
Production order: N
Paint code 1:
339U - VIOLAN - METALLIC PAINT
Equipment:
214A - LEATHER, JAVA
Engine no.:
112941 30 991152
Transmission:
722664 02 774951 [transmissionType = GA]
Steering: 
Front axle 1:
Rear axle 1:
Rear axle 2:
Battery 1: 
Fuel cell 1: 
Electric motor 1: 
SA code
231 - GARAGE DOOR OPENER
242 - FRONT SEAT RH ELECTRIC ADJUSTABLE WITH MEMORY
249 - INSIDE AND OUTSIDE MIRROR AUTOMATIC DIMMING
265 - LINES-NO.PLATE DISCONTINUED
275 - MEMORY PACKAGE (DRIVER SEAT, STRG. COL., MIRROR)
293 - SIDEBAG IN REAR LEFT AND RIGHT
345 - RAIN SENSOR
349 - PREP. FOR EMERGENCY CALL SYSTEM
352 - COMAND
414 - ELECTRIC TILT/SLIDE SUNROOF IN GLASS VERSION
423 - 5-SPEED AUTOMATIC TRANSMISSION
461 - INSTRUMENT WITH MILES IND. AND ENGLISH LEGEND
494 - U.S. VERSION
524 - PAINTWORK - PRESERVATION
543 - SUN VISOR WITH MAKE-UP MIRROR L. AND R., BE-
551 - ANTI-THEFT/ANTI-BREAK-IN WARNING SYSTEM
581 - AUTOMATIC CLIMATE CONTROL
611 - EXIT LIGHTS FOR DRIVER DOORS
634 - DELETION - FIRST AID KIT
636 - DELETION - WARNING TRIANGLE
641 - LIGHT ALLOY WHEEL, 11-HOLE DESIGN
668 - PACKAGING FOR SHIPPING VEHICLES WITH TIE-DOWN HOOK
673 - HIGH-CAPACITY BATTERY
801 - AEJ 00/1 R 170 AEJ 99/2
810 - SOUND SYSTEM
873 - SEAT HEATER FOR LEFT AND RIGHT FRONT SEATS
876 - INTERIOR LIGHT ASSEMBLY
955 - EQUIPMENT PACKAGE ELEGANCE
210A - LEATHER
339U - VIOLAN - METALLIC PAINT
214A - LEATHER, JAVA